The Vision of REAPP Marriage Enrichment Workshops
Since the beginning, it has been God's perfect plan and intent to create a family of love which would include all persons. A family of love which would include all persons and every family always was and still is God's vision, plan and desire. Only with healthy marriages can there be healthy families. We have made this vision our own.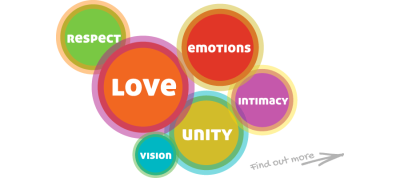 You choose the course your marriage will take
The Marriage Enrichment workshop is founded on the principle that a married couple can choose the course their marriage will take. "Change is inevitable, but development in a positive direction comes only as the result of careful planning and intentional effort." (Drs. David and Vera Mace)
Shocking statistics in nation after nation show that more and more marriages are ending in disaster, with families separated, children profoundly wounded, anger and violence being tragically vented in schools and society in general. The world desperately needs what we have to offer.
The authors field-tested the materials used in the workshops in hundreds of occasions, and they have since been taken around the globe by facilitating couples.
Biblical values and preventive principles
The REAPP workshops offer a combination of Biblical values and preventive principles. They are designed to help the participants assess the state of their relationship and learn skills that will empower them to enrich their marriage. The participants apply and rehearse the principles immediately through couple dialog; this enhances the learning process and enriches the relationship. Finally the participants are given the opportunity to create a growth plan, in which they define measurable goals and corresponding action that they want to take together.
The goal of the Marriage Enrichment Workshops is to help every couple to develop their personalities and deepen their relationship further.
A workshop for all
All couples who want to deepen their relationship can attend the workshop. Whether young couples or those who have been married for many years, couples with good marriages or those with difficulties – all will benefit from the hours they invest in their relationship.
Multiplication
Our hope for the workshops is multiplication. People who are trained and work on their own marriage can train other couples, who in turn pass on what they have learned to others. A second workshop, the "Basic Training Workshop", trains new facilitators to spread the Marriage Enrichment movement. It should be taken soon after attending the Marriage Enrichment Workshop.